Dentist in Burbank, CA
All our professionals at Edward C. Joseph, D.D.S. maintain the highest levels of accreditation and pursue ongoing education to stay abreast of the latest trends in dentistry.
DR. EDWARD C. JOSEPH, DDS
Burbank, CA Dentist
Dr Joseph received his DDS degree in 1984 from the University of the Pacific School of Dentistry San Francisco and is a member of the American Dental Association, California Dental Association, and San Fernando Valley Dental Society. He has maintained his growing private practice in Burbank since 1985. His Bachelor of Science undergraduate studies were completed at USC in 1981. A native of California, he was born in Inglewood and attended Crespi High School with honors in Encino.
Dr. Joseph appreciates the relationship he has with Burbank and the surrounding area. "I fell in love with Burbank the first day I started my dental practice here," Dr. Joseph says. "Burbank is a great city for my dental practice. People here are all so nice. The entertainment industry is based right across the street, which keeps the area very dynamic. It helps us maintain our focus. We have to provide only the highest quality esthetic dentistry." Dr. Joseph has donated his time and services for worthy dental causes to give back to the great community which has supported him. He has volunteered dental services to under privileged and needy children at the Saint Joseph's Hospital children's dental clinic while serving on staff at the prestigious hospital; has given oral hygiene instruction presentations to children in grade school; supported numerous health organizations such as The American Heart Association, American Cancer Society, and Breast Cancer Research, as well as local schools such as Burroughs High.
He is committed to providing only the most current, state of the art dental procedures, materials, and equipment to his patients focusing on cosmetic dentistry. "Being on the cutting edge is a challenge," says Dr. Joseph. "It's fun, exciting, and my patients deserve it."
He was married in 1991 to Cindy, who is also a part time hygienist in the office. They have 3 beautiful children who all enjoy multiple sports.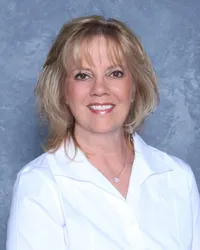 CINDY JOSEPH, RDH
Cindy is an RDH (registered dental hygienist) and Dr. Joseph's wife. A native of California, she grew up in Sunnyvale and completed her dental assisting training in Mountain View. She then moved to Los Angeles in 1986 and graduated USC School of Dentistry, Department of Dental Hygiene with her BS degree. When asked what her hobbies are, she joked "spending all my time taking my kids to their sporting events!" Cindy loves to travel. Jet travel doesn't stop her from traveling with her children, taking them since they were infants on cross country flights and to Hawaii for vacations. Patients love Cindy's friendly, talkative nature and her limitless supply of a sense of humor. Like all of Dr. Joseph's hygienists, her expertise in cleaning teeth and gums and keeping them healthy has gained her a loyal and faithful following.
JOHANNA MENA, BS, MS, RDH
Johanna successfully completed her undergraduate degree in Biology from California Polytechnic University at Pomona. Soon after, Johanna attended USC where she simultaneously attended two programs: Dental Hygiene and Master's of Craniofacial Biology. She presented in the International Association of Dental Research in San Diego in 2002. She also presented in Outstanding Research and Development at USC. Her latest contribution was a publication in Oral Microbiology and Immunology (December 2007, vol. 22 no. 6) She has been invited to be a member of a judiciary Board for Locally Derived antibiotics. She was a clinical professor at USC and she has been a part of Dr. Joseph's team since August 2007. She has published studies focusing on periodontal diseases.
Johanna is a strong believer that Dental Health is a cooperative effort between the patient oral health care regimen, the hygienist and dentist. She is a Clippers and USC Trojan fan.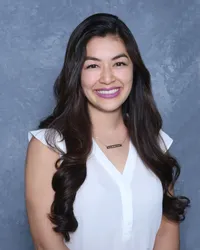 ALEXA-RAE SASAKI, RDH
Alexa-Rae Sasaki is one of our Registered Dental Hygienists. She was born and raised in Southern California and she cannot imagine living anywhere else. After high school, Alexa attended Cal State Long Beach with the intention of receiving her bachelor degree in biology. During her second year at CSULB, her aunt (a dental hygienist) convinced her to apply to a dental hygiene program in Anaheim, California. After two years of rigorous studying, Alexa graduated top of her class from West Coast University in 2013 with a BS in Dental Hygiene. Alexa loves her job and helping her patients achieve optimal dental health!
Alexa's spare time is spent hiking, exercising and hanging out with her two fur kids.
LETRECE BURLEW
Letrece is our office manager. She is also a RDA (registered dental assistant) so she helps Dr. Joseph at chairside should the need arise. She is one of the staff you will speak with when you call. Letrece is involved with every aspect of managing the front office including scheduling appointments, presenting treatment plans, making financial arrangements, billing insurance, and generally "helping patients in whichever way I can to make this a pleasant experience." She grew up in the Los Angeles area. After graduating high school, she joined the US Navy. After serving 18 months of active duty, she was accepted for Dental Tech "A" school at 32nd St. Naval Base in San Diego, finishing her military obligation at Bethesda Naval Hospital in Maryland.
Returning to southern California, she has worked in the dental profession since 1981. "I enjoy working here with the great staff and the many wonderful patients I have come to know these past few years," says Letrece. We enjoy having you here, too, Letrece, and we are so fortunate to have such a loyal, hard worker with you since 1993.
What does she do in her spare time? "I like to spend time with my husband, James. We go to the movies and Dodger games. I also like to travel, and spending time with my cat."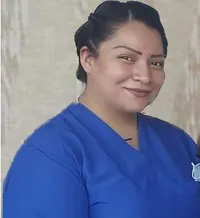 ANGELA ANDRADE
Angie is one of our dental assistants. You will find her assisting the doctor and the hygienists, and keeping the back office functioning flawlessly. Her warm, charming nature and endless sense of humor makes patients feel at ease. She is a southern California native, attending Hollywood High School and has been a dental assistant since 2009. She enjoys spending time at home with her husband and two boys.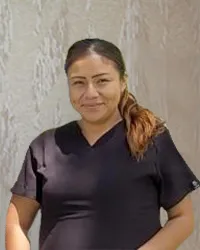 DAISY ANDRADE
Daisy is one of our dental assistants and front desk receptionists. You will find her meeting and greeting patients, helping to keep the front desk functioning. She also assists the doctor and the hygienists and helping the back office functioning as well. She is a southern California native, attending Hollywood High School. She enjoys spending time at home with her two girls.