Posts for tag: snoring
By Edward Joseph, D.D.S.
March 18, 2019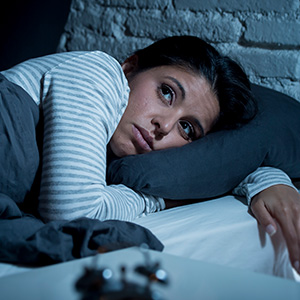 The month of March brings the first day of spring, when nature seems to wake up after a restful winter slumber. It also brings Sleep Awareness Week, which leads us to ask: How's your sleep? For around one of every three people, the answer seems to be: Not so good! In fact, it's estimated that some 50-70 million people in the U.S. alone have sleep problems, including sleep-related breathing disorders like obstructive sleep apnea (OSA).
People who suffer from this condition seem to sleep fitfully and snore loudly—and they may actually wake up dozens of times every night without even knowing it. These "micro-arousals" make it impossible to get restful sleep, which can lead to fatigue, trouble concentrating, and behavioral issues. Children with sleep disorders like OSA are sometimes diagnosed with attention deficit/hyperactivity disorders because the symptoms are very similar.
If you suspect that you (or someone you care about) may have a serious sleep disorder, it's a good idea to get an examination from a medical professional who specializes in this area. If the diagnosis is OSA, there are a number of treatments that can be effective—one of which is an oral appliance that's available from the dental office.
Dentists are quite familiar with the anatomical structure of the mouth, which is sometimes the root cause of OSA. In many individuals, the soft tissue structures in the back of the oral cavity (including the tonsils, tongue and soft palate) can shift position when muscles relax during sleep and block the flow of air through the windpipe. The lack of sufficient air may cause a person to awaken briefly, gasp for breath, and then relax their muscles—over and over again, all night long.
After a complete exam, we can have an appliance custom-made for you that has proven successful in managing mild to moderate cases of OSA. Shaped a little like a retainer, it is worn in your mouth at night and taken out in the daytime. The appliance helps maintain an open airway by re-positioning the jaw and/or keeping the tongue out of the way.
Oral appliance therapy is one of the most conservative options available for treating OSA: It requires no major equipment or irreversible medical procedures. However, there are a number of other options, including machines that supply pressurized air through a face mask and even oral surgery. It's important to consult with a specialist in sleep disorders when you're facing this issue. If the diagnosis is OSA or a similar sleep problem, remember that help may be available here at the dental office.
If you have questions about sleep-related breathing disorders, please contact us or schedule an appointment for a consultation. You can read more in the Dear Doctor magazine articles "Oral Appliances For Sleep Apnea" and "Sleep Disorders & Dentistry."
By Edward Joseph, D.D.S.
January 07, 2013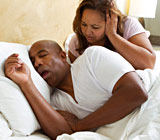 Getting enough sleep is necessary for good health. We all know how energetic we feel when we are sleeping well at night. Yet, many of us do not feel rested, even after seven or eight hours of sleep. Let's answer some common questions about snoring and sleep apnea, problems that are often called sleep related breathing disorders (SRBD).
What is the purpose of sleep?
Scientists know we need sleep, at a particularly deep level, to be rested, but they are not sure why we need sleep. Sleep may have evolved as a way to conserve energy in the body, to conserve food supplies, or to reduce our risk during darkness. Sleep appears to give the brain a chance to store and organize its information and the body a chance to recuperate. Sleep studies have shown that in order to get the full benefits of sleep we need to sleep long and deeply enough to enter into a series of sleep cycles including Rapid Eye Movement (REM) and Non-Rapid Eye Movement (NREM) sleep.
What kinds of problems get in the way of the type of sleep we need?
There are eight main categories of sleep disorders, but the ones affecting the largest numbers of people are insomnia, SRBD, and Circadian Rhythm Sleep Disorders. SRBDs include snoring and Obstructive Sleep Apnea (OSA), which is a serious health problem.
How do I know if I have OSA or another SRBD?
Often, your bed-partner will tell you that you snore. Chronic loud snoring is an indicator of OSA. To make a diagnosis your physician must take a thorough sleep and medical history. The diagnosis may then be confirmed by a study in a sleep lab.
What causes sleep apnea or OSA?
Snoring and OSA happen when your tongue and other soft tissues in the back of your throat collapse backwards and block airflow through your upper airway or windpipe. You may briefly awaken as many as 50 times per night because of these breathing lapses. These brief awakenings, called micro-arousals, keep you from reaching the deep stage of sleep your body needs.
What are the treatments for sleep apnea?
Treatments include CPAP therapy, in which patients wear a mask while sleeping. The mask pushes air through the airway, keeping it open. In Oral Appliance Therapy (OAT) patients wear a device that moves the lower jaw forward, allowing more room for air to move down the airway. Oral surgical procedures and orthodontic approaches also have the goal of moving the tongue away from the throat. These are all treatments that can be carried out by a dentist who has training and experience in treatment of sleep disorders.
Contact us today to schedule an appointment to discuss your questions about sleep disorders and their treatments. You can also learn more by reading the Dear Doctor magazine articles "Sleep Disorders and Dentistry" and "Sleep Apnea Frequently Asked Questions."
By Edward Joseph, D.D.S.
August 21, 2011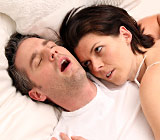 A good night's sleep...have you been getting them lately? While everyone knows that sleep is important, did you know that we all spend about one-third of our lives asleep? And did you know that when deprived of sleep, the negative impact is detrimental on both an individual as well as at the societal level? These important facts are just some of the reasons why there has been an increased interest in studying sleep, sleep loss and sleep disorders.
If you have issues with sleep, you might have a sleep disorder — an epidemic problem that impacts approximately 50 to 70 million people in the US alone. Obstructive Sleep Apnea ("a" – without; "pnea" – breath) (OSA) is a medical condition that occurs when your tongue collapses against the back of your throat causing a significant reduction in your intake of air or even total temporary blockage. If left untreated, OSA can lead to an irregular heartbeat, heart attacks, high blood pressure, and other forms of heart disease plus strokes and even impotence.
Please note that while your responses to the questions below do not equate to a diagnosis, sharing them with our office can be extremely beneficial in helping us properly evaluate and treat issues related to poor sleeping habits.
Do you weigh 15 pounds or more than the normal weight range for your height, sex and age?
If you are male, is your neck measurement 17 inches or more? Or if you are female, is it 16 inches or more?
Do sleep partners routinely tell you that you are a loud snorer and/or that during your sleep you choke, gasp for air or briefly stop breathing?
Do you often wake up still feeling tired after 8 or more hours of sleep?
Do you often find yourself falling asleep at work or home during periods when you should be awake?
Do you suffer from irritability, depression, loss of memory, poor judgment and/or concentration?
The first and most important step in treating sleep apnea is to obtain a proper diagnosis. Contact us today to schedule an appointment to discuss your questions about sleep apnea. We can assist in the diagnosis and treatment of sleeping disorder along with a physician trained in this area. And rest assured that we have many treatment options we can use to help you get a great night's sleep. To learn more about sleep apnea, continue reading the Dear Doctor magazine article "If You Snore, You Must Read More!"