Posts for tag: snoring and sleep apnea
By Edward Joseph, D.D.S.
January 16, 2014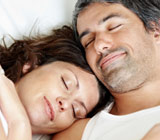 Do you snore? You can admit it. Most everyone does, from time to time. But if snoring becomes a frequent and disturbing feature of your nighttime routine, it may be more than just an annoyance. Did you know that excessive snoring — when accompanied by irritability and depression, daytime sleepiness and confusion, and/or several other physical and mood problems — is one of the common symptoms of a sleep-related breathing disorder (SRBD)?
SRBDs are potentially serious conditions, with consequences that can range from poor workplace performance to possible cardiovascular and brain damage. One of the most significant of these maladies is called Obstructive Sleep Apnea, or OSA, a condition in which the tongue and surrounding soft tissues fall back into the throat and obstruct air flow. This reduces oxygen levels in the blood, causing the body to wake suddenly — and in severe cases, it can happen up to 50 times an hour, without a person consciously realizing it.
Needless to say, that doesn't make for a good night's sleep. But even if it turns out your snoring problem isn't severe OSA, it can still prevent you (and your partner) from feeling refreshed in the morning. Did you know that we may be able to recommend an oral appliance that has been proven to alleviate problem snoring in many cases? This custom-made device, worn while you're sleeping, helps maintain an open airway in the throat and reduce breathing problems.
If you have this condition, it's critical that you get professional advice. Dentists who have received special training in sleep problems can evaluate you, provide medical referrals when needed, and help determine the type of appliance that may work best for you. Since sleep disorders can be problematic, a thorough evaluation and follow-up monitoring is essential.
Several treatments for SRBDs are available. But oral appliance therapy, when it's recommended, offers some distinct advantages. The small appliances are comfortable, easy to wear, and very portable — unlike more complex medical devices such as CPAP machines. They're a non-invasive and reversible treatment that should be considered before undertaking a more intensive treatment, like surgery. Could an oral appliance benefit you? Why not ask us if we can help you get a good night's sleep.
If you would like more information about oral appliance therapy for sleep problems, please contact us or schedule an appointment for a consultation. You can also learn more by reading the Dear Doctor magazine articles "Sleep Disorders and Dentistry" and "Sleep Apnea FAQs."
By Edward Joseph, D.D.S.
September 10, 2012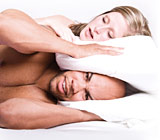 Nightly snoring can be a sign of a dangerous condition called sleep apnea (from "a" meaning without and "pnea" meaning breath). When someone snores the soft tissues in the back of the throat collapse onto themselves and obstruct the airway, causing the vibration known as snoring.
If the obstruction becomes serious, it is called obstructive sleep apnea, or OSA. In such cases the flow of air may be stopped for brief periods, causing the person to wake for a second or two with a loud gasp as he attempts to catch his breath. This can cause heart and blood pressure problems, related to low oxygen levels in the blood. The obstruction and mini-awakening cycle can occur as many as 50 times an hour. A person with this condition awakens tired and faces the risk of accidents at work or while driving due to fatigue.
Studies show that sleep apnea patients are much more likely to suffer from heart attack, congestive heart failure, high blood pressure, brain damage and strokes.
What can be done to treat OSA?
Snoring, apnea, and OSA occur more frequently in people who are overweight. So start with losing weight and exercising.
At our office, we can design oral appliances to wear while sleeping that will keep your airway open while you sleep. These appliances, which look like sports mouth guards, work by repositioning the lower jaw, tongue, soft palate and uvula (soft tissues in the back of the throat); stabilizing the lower jaw and tongue; and increasing the muscle tone of the tongue.
Another approach is to use a Continuous Positive Airway Pressure (CPAP) bedside machine. These machines send pressurized air through a tube connected to a mask covering the nose and sometimes the mouth. The pressurized air opens the airway so that breathing is not interrupted.
Much less frequently, jaw surgeries may be recommended to remove excess tissues in the throat. These would be done by specially trained oral surgeons or ear, nose and throat specialists.
Diagnosis and treatment of OSA is best accomplished by joint consultation with your physician and our office. Contact us today to schedule an appointment to discuss snoring and OSA. You can learn more by reading the Dear Doctor magazine articles "Sleep Disorders and Dentistry" and "Snoring and Sleep Apnea."
By Edward Joseph, D.D.S.
December 18, 2011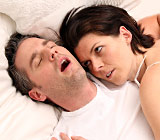 Dentistry has ventured into the new area of sleep medicine by helping snorers — and their exasperated sleeping partners — with custom-made anti-snoring devices. These oral appliances, which resemble orthodontic retainers or sports mouthguards, keep the snorer's airway clear and the bedroom quiet. To see how they work, you have to understand the mechanics of snoring.
Snoring occurs when the upper airway (back of the throat) becomes blocked by the tongue or other soft-tissue structures, such as large tonsils or a long soft palate. The vibrating of these obstacles creates the sound we call snoring.
Snoring is often worse when sleeping on one's back because that position encourages the lower jaw to fall back and the tongue to close off the airway. This is where Oral Appliance Therapy comes in. These custom-fitted devices are designed to keep the upper airway open during sleep by pulling the lower jaw forward, which in turn brings the tongue away from the throat. Dentists, and our office in particular, are the only source for Oral Appliance Therapy.
People who snore should have a thorough examination to rule out Obstructive Sleep Apnea (OSA), a potentially dangerous condition in which airflow can be cut off completely for 10 or more seconds ("a" – without; "pnea" – breath), reducing blood-oxygen levels. Chronic, loud snoring is a common finding with OSA.
Please remember that sleep is an integral part of health and well-being. In fact, we spend about a third of our lives doing it. If you are snoring or have any sleep-related breathing disorders that are waking you or your bed partner, be sure to tell our office. There are plenty of examples of the havoc wreaked by sleep-deprived individuals. Remember the Exxon Valdez?
If you have any questions about Oral Appliance Therapy, please contact us or schedule an appointment for a consultation.
To learn more about the topic of oral appliance therapy, please see the Dear Doctor magazine article "Sleep Disorders & Dentistry."