Posts for tag: dental emergency
By Edward Joseph, D.D.S.
May 15, 2013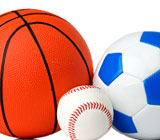 Everyone knows that football players and boxers wear mouthguards to protect their teeth from injury — in fact, it's thought that this essential piece of protective gear was first developed, around a century ago, for the latter sport. But did you know that many other athletic activities carry a high risk of dental injury?
How much do you know about dental injuries in sports? Take this quiz and find out!
True or False: Of all sports, baseball and basketball are associated with the largest number of dental injuries.
True. While these games aren't categorized as "collision" sports, the damage caused by a flying elbow or a foul ball may be quite traumatic. Tooth damage or loss can create not only esthetic problems, but also functional problems, like difficulty with the bite. Missing teeth can also be expensive to fix — running up a lifetime tab of some $10,000 - 20,000 if they canâ??t be properly preserved or replanted.
True or False: In general, oral-facial injuries from sports decline from the teen years onward.
True. Sports-related dental injuries, like other trials of adolescence, seem to peak around the teenage years. It's thought that the increased skill level of participants in the older age groups reduces the overall incidence of injury. But there's a catch: when dental injuries do occur in mature athletes, they tend to be more serious. So, protecting your teeth while playing sports is important at any age.
True or False: Over 80% of all dental injuries involve the upper front teeth.
True. For one thing, the front teeth areâ?¦ in front, where they can easily come in contact with stray objects. An individual's particular anatomy also plays a role: The more the front teeth "stick out" (referred to as "overjet" in dental parlance), the more potential for injury. In any case, theyâ??re the most likely to be damaged, and most in need of protection.
True or False: Your chance of receiving a dental injury in non-contact sports is very slim.
False. Even "non-contact" athletes moving at high rates of speed can be subject to serious accidents. Activities like bicycling, motocross, skateboarding, skiing and snowboarding all carry a risk. The accidents that result can be some of the most complicated and severe.
True or False: An athlete who doesn't wear a mouthguard is 60 times more likely to suffer harm to the teeth.
True. This figure comes straight from the American Dental Association. So if you want to reduce your chance of a sports-related dental injury, you know what to do: Wear a mouthguard!
What's the best kind of mouthguard? Like any piece of sports equipment, it's the one that's custom-fitted just for you. We can fabricate a mouthguard, based on a precise model of your teeth, that's tough, durable and offers the best level of protection. And, as many studies have shown, that's something you just can't get from an off-the-shelf model.
If you have concerns about sports-related dental injuries and their prevention, please contact us or schedule an appointment for a consultation. You can learn more in the Dear Doctor magazine articles "Athletic Mouthguards" and "An Introduction to Sports Injuries & Dentistry."
By Edward Joseph, D.D.S.
April 20, 2013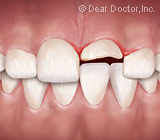 One went over the handlebars of his mountain bike. Another got an elbow going for a lay-up. For a third, it was that tricky maneuver on her new snowboard...
These are just a few of the ways that kids' teeth can be injured. (No doubt, parents can think of plenty more.) The good news is that modern dentistry offers more options than ever for treating the injury and restoring the appearance and function of the teeth.
Teeth that are fractured or dislodged are a serious condition that requires immediate, comprehensive treatment. The majority of dental injuries, however, are less severe: most often, they involve chipped teeth. If chips occur in the upper front teeth — as some 80% of dental injuries do — even small flaws can have a big affect on the appearance. And, especially in the teenage years, appearance can mean everything.
In many cases, small chips in the teeth can be repaired effectively using a procedure called "bonding." In this treatment, we use a tooth-colored material made by mixing a plastic matrix and a glass-like filler, which provides adequate strength and aesthetic qualities similar to the natural teeth. In fact, this composite material can be matched to an individual's tooth color so accurately that it's hard to notice any difference.
Composite resins can be successfully bonded to most healthy teeth — and they offer some advantages over other restoration methods, particularly for children and teenagers. The bonding procedure avoids making tiny "undercuts" in the natural substance of the tooth, while metal fillings need to "lock in" to the tooth's structure. This means that bondings generally require less tooth preparation, which usually makes bonding a quick and relatively easy method of restoration.
It's true that, over time, some bonded restorations may not stand up to the tremendous biting forces of the jaw as well as porcelain restorations — but in young people whose permanent teeth have large pulp (nerve) chambers, the removal of too much tooth structure could compromise the long-term health of the tooth. Later on, we can look at performing a different type of restoration.
If you have questions about cosmetic bonding or sports-related dental injuries, please contact us or schedule an appointment for a consultation. You can learn more in the Dear Doctor magazine articles "Repairing Chipped Teeth" and "An Introduction to Sports Injuries & Dentistry."
By Edward Joseph, D.D.S.
March 11, 2012
As the Boy Scouts say, it's best to be prepared. You may never have a traumatic injury to your teeth. But what if you do? Here are four questions and answers about such injuries and their treatment that may be helpful some day.
What are traumatic injuries?
We are talking about physical damage caused by a fall, an accident, or a blow to the face. The word trauma comes from the Greek root meaning "wound."
A traumatic injury can also cause broken, cracked, or split teeth, or a fracture to the root of the tooth. A tooth may be dislodged from its proper position, pushed sideways, out of or deeper into its socket. It may even be completely knocked out of your mouth.
What should you do if your tooth is knocked out?
With proper treatment, the tooth can be restored to its original place. You must handle the tooth gently and seek professional help as soon as possible. Rinse the tooth in cold water if it is dirty, but do not use any cleaning agent. Avoid touching the root. While hurrying to your dentist, keep the tooth from drying out by keeping it in a container of milk or of your saliva, or by holding it in your mouth between gum and cheek. It is vital to keep the tooth's living tissues moist until it can be professionally assessed and replanted in its socket. If a tooth has been dislodged but not knocked out, it must be repositioned in its socket and may be stabilized with a splint.
Who can treat a tooth that is damaged by a traumatic injury?
A general dentist, an oral surgeon or an endodontist is trained to treat such injuries. An endodontist is trained to treat the root canal(s) inside a tooth. The word comes from "endo" the Greek word for "inside," and "odont," the word for "tooth." After a tooth is replaced in its socket and stabilized, root canal treatment is often needed.
What is root canal treatment?
A tooth is composed mostly of dentin, a living tissue. The top part or crown is covered by hard mineralized enamel. The soft tissue inside the tooth, the pulp, contains blood vessels, nerves and connective tissues. It extends from the crown to the tip of the roots. Treatment of dental pulp injuries is called root canal or endodontic treatment and is usually needed to treat teeth that have been dislodged or fractured.
Contact us today to schedule an appointment to discuss your questions about injuries to teeth and related nerve damage. You can also learn more by reading the Dear Doctor magazine article "Trauma & Nerve Damage to Teeth."