Posts for: July, 2014
By Edward Joseph, D.D.S.
July 23, 2014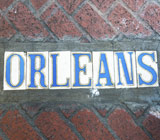 Think of New Orleans, Louisiana, and what comes to mind? The sound of jazz pouring out from a nightclub in the French Quarter… the smell of shrimp boiling in a spicy gumbo… the fresh feeling you get after you've cleaned between your teeth with dental floss?
You may not know it, but besides its culinary charms and musical mojo, New Orleans has another claim to fame: It's the historical home of dental floss. In the early 1800's, a pioneering dentist by the name of Dr. Levi Spear Parmly recommended that his patients clean between their teeth with a silken thread. Long before the role of oral bacteria was recognized, it was Dr. Parmly's belief that cavities were caused by foreign material on the tooth surfaces. But it took until nearly the end of the century for his invention to become available in handy dispensers. And the rest, as they say, is history.
Today, of course, we know much more about the causes and treatment of tooth decay. For example, we know that harmful bacteria in plaque — the sticky biofilm that builds up on your teeth in the absence of effective cleaning — release chemical substances that erode tooth enamel; this causes cavities (tiny holes in the tooth) to begin forming. We also know that while brushing alone helps remove plaque, it's far and away more effective when combined with flossing.
Yet there's one thing we're still not sure of: Why don't more people use dental floss regularly? Did you know that with careful attention to your oral hygiene, tooth decay is almost completely preventable? Plus, dental floss is now available in many different varieties: It's no longer made of silk, but can consist of nylon or gore-tex thread; it comes waxed or unwaxed, round or flat… even flavored like mint or bubble gum!
So here's our suggestion: Find a style of dental floss you like, picture yourself on Bourbon Street… and spend a few minutes flossing every day. Your teeth will say "merci beaucoup."
If you would like more information about flossing and cavity prevention, please call our office to schedule a consultation. You can learn more in the Dear Doctor magazine article "Tooth Decay."
By Edward Joseph, D.D.S.
July 15, 2014
The preferred outcome when treating a tooth for decay is to preserve it. If the disease is still in its early stages, we can accomplish this effectively by removing diseased tissue and then restoring the remaining tooth with filling material.
There comes a point, however, when filling a tooth isn't the best option. If it has already received several fillings, the tooth may have become too weak to receive another. Additionally, a filling may not be enough protection from further fracture or infection for teeth weakened from trauma or abnormal tooth wear or in the event a root canal treatment is necessary.
While a diseased tooth can be extracted and replaced with a durable and aesthetically pleasing dental implant, there may be another option to consider — installing a crown. Like a filling, a crown preserves what remains of a natural tooth, but with better protection, life expectancy and appearance than a filling.
Known also as a cap, a crown completely covers or "caps" a natural tooth. They're produced in a variety of styles and materials to match the function and appearance of the capped tooth and adjacent teeth. Crowns made of porcelain are ideally suited for visible teeth because of their resemblance to tooth enamel. A less visible tooth that endures more biting force (like a back molar) may need the strength of a precious metal like gold or new-age porcelains that can also withstand significant biting forces. There are also hybrid crowns available that combine the strength of metal for biting surfaces and the life-like appearance of porcelain for the more visible areas of a tooth.
To prepare a tooth for a crown, we first remove any decayed structure and add bonding material to strengthen what remains. We then make a mold of the tooth and bite, which is typically sent to a dental technician as a guide for creating the permanent crown. Recent advances with digital technology have also made it possible to mill the permanent crown out of porcelain in the dental office while you wait.
After the permanent crown is received and permanently bonded to the tooth, you will have a protected and fully functional tooth. From this point on it's important for you to clean and care for it as you would any other tooth since the underlying tooth is still at risk for decay. The good news is your tooth has been saved with a bonus — a long-term solution that's also smile-transforming.
If you would like more information on crowns and other tooth restorations, please contact us or schedule an appointment for a consultation. You can also learn more about this topic by reading the Dear Doctor magazine article "Crowns & Bridgework."