Posts for: September, 2012
By Edward Joseph, D.D.S.
September 18, 2012
Having a whiter, brighter smile can do wonders for improving self-confidence, career opportunities, and interpersonal relationships, as demonstrated in numerous scientific studies. In fact, according to a poll conducted on behalf of the American Academy of Cosmetic Dentistry (AACD), the following was revealed:
99.7% of Americans believe a smile is an important social asset.
74% feel an unattractive smile can hurt chances for career success.
50% of all people polled were unsatisfied with their smile.
These statistics demonstrate why you should have a solid understanding about any cosmetic procedure — even teeth whitening — before making your decision to proceed. To help you ensure that you have the facts, we created the following list of questions.
Am I a good candidate for tooth whitening?
How much will the entire process cost?
Does my insurance cover the cost (or any portion of the cost)?
How does teeth whitening work?
Is bleaching teeth safe?
Will the bleaching agents damage tooth enamel?
Can whitening treatments make my teeth sensitive?
How does your professional bleaching differ from home whitening?
What type of bleach and strength will you use?
How long can I expect the results to last?
What will the bleach do to my gums, filings, crowns, veneers, and/or bridgework?
Please note that we may cover most or all of these questions during your initial consultation; however, we encourage you to bring this list with you to ensure you get the answers you need so that you can make the best decision. To learn more now, continue reading the Dear Doctor article, "Teeth Whitening: Brighter, Lighter, Whiter...." Or, you can contact us to discuss your questions or to schedule an appointment.
By Edward Joseph, D.D.S.
September 10, 2012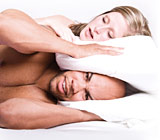 Nightly snoring can be a sign of a dangerous condition called sleep apnea (from "a" meaning without and "pnea" meaning breath). When someone snores the soft tissues in the back of the throat collapse onto themselves and obstruct the airway, causing the vibration known as snoring.
If the obstruction becomes serious, it is called obstructive sleep apnea, or OSA. In such cases the flow of air may be stopped for brief periods, causing the person to wake for a second or two with a loud gasp as he attempts to catch his breath. This can cause heart and blood pressure problems, related to low oxygen levels in the blood. The obstruction and mini-awakening cycle can occur as many as 50 times an hour. A person with this condition awakens tired and faces the risk of accidents at work or while driving due to fatigue.
Studies show that sleep apnea patients are much more likely to suffer from heart attack, congestive heart failure, high blood pressure, brain damage and strokes.
What can be done to treat OSA?
Snoring, apnea, and OSA occur more frequently in people who are overweight. So start with losing weight and exercising.
At our office, we can design oral appliances to wear while sleeping that will keep your airway open while you sleep. These appliances, which look like sports mouth guards, work by repositioning the lower jaw, tongue, soft palate and uvula (soft tissues in the back of the throat); stabilizing the lower jaw and tongue; and increasing the muscle tone of the tongue.
Another approach is to use a Continuous Positive Airway Pressure (CPAP) bedside machine. These machines send pressurized air through a tube connected to a mask covering the nose and sometimes the mouth. The pressurized air opens the airway so that breathing is not interrupted.
Much less frequently, jaw surgeries may be recommended to remove excess tissues in the throat. These would be done by specially trained oral surgeons or ear, nose and throat specialists.
Diagnosis and treatment of OSA is best accomplished by joint consultation with your physician and our office. Contact us today to schedule an appointment to discuss snoring and OSA. You can learn more by reading the Dear Doctor magazine articles "Sleep Disorders and Dentistry" and "Snoring and Sleep Apnea."