Posts for: February, 2012
By Edward Joseph, D.D.S.
February 16, 2012
Xylitol is a kind of sugar.
True or False
Xylitol is made from

Bark of birch trees
Coconut shells
Cottonseed hulls
All of the above

Xylitol is a natural "sugar alcohol" similar to other so-called sugar alcohols such as mannitol and sorbitol.
True or False
Xylitol is broken down by decay-causing bacteria to produce acid.
True or False
Decay-causing bacteria are transmitted from a parent to a child through oral contact such as a simple lip-to-lip goodnight kiss.
True or False
Researchers have found no difference in prevention of tooth decay in gum made from xylitol compared to gums containing sorbitol/xylitol and sucrose.
True or False
Other xylitol products such as mints, candy and cookies also seem to decrease the incidence of tooth decay.
True or False
Xylitol products increase salivary flow and allow saliva to neutralize acids in your mouth.
True or False
The only side effect of too much xylitol ingestion is a possible mild laxative effect.
True or False
The target dose of xylitol is one to two teaspoons spread throughout the day.
True or False
Answers:
True. Xylitol is a kind of sugar that does not contribute to tooth decay.
All of the above. It is also found naturally in some fruits and vegetables.
True. The others, mannitol and sorbitol, are used as sugarless sweeteners.
False. Unlike sucrose (table sugar), xylitol is NOT broken down by bacteria to produce acid. Xylitol also stops saliva from becoming acidic so your mouth becomes an unfriendly environment to acid-producing bacteria.
True. However, xylitol inhibits growth and attachment of the bacteria to your teeth, so it also inhibits transmission to your children.
False. Systematic use of xylitol chewing gum significantly reduces the relative risk of caries (tooth decay) when compared to chewing gums containing sorbitol/xylitol and sucrose. Xylitol gum also appears to halt the development of tiny cavities when compared to other types of chewing gum.
True. Use of these products seems to stop the progression of active decay.
True. Xylitol and your saliva combine to re-mineralize (harden) your teeth after an acid attack.
True.
True. This means two pieces of xylitol gum or two pieces of xylitol candy or mints should be consumed for five minutes four times a day after eating meals or snacks.
Contact us today to schedule an appointment to discuss your questions about xylitol and other methods of preventing tooth decay. You can also learn more by reading the Dear Doctor magazine article "Xylitol in Chewing Gum."
By Edward Joseph, D.D.S.
February 08, 2012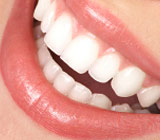 When speaking about veneers in dentistry, many people wonder what they are really made from and how they produce such natural results. The answer is dental porcelain...and yes, it really is a type of porcelain or glass. Even though they are made of porcelain, not all porcelains are the same. This is one reason there can be such a wide price range when comparing porcelain veneer pricing from one dentist to another. For example, the quality of the dental porcelain used and the expertise of the dental lab artisans greatly impact the price of a veneer — just like other pieces of fine art, pricing depends upon the materials used and the artistry of the person creating them.
Dental porcelains are used to create veneers because of their near ideal optical properties in mimicking natural teeth in shine, opacity, and translucence. And when you combine these facts with the artistry of the lab technician and your dentist skill's in placing the veneers, you begin to understand how veneers are virtually undetectable in cosmetically-enhanced teeth. Another reason for using dental porcelain is that they can be made in many colors, shades and translucencies to enhance the optical properties and natural beauty of whiter, brighter, and visually appealing teeth. However, do not let the word porcelain, fool you when it comes to durability. While veneers are not as strong as natural teeth they are not so fragile that you should worry about breaking or damaging them with normal wear and tear. However, you should avoid biting into extremely hard substances; using your veneers as a tool in lieu of scissors, tweezers, or pliers (you should not use your natural teeth as a tool either!); and twisting your veneers when biting into harder substances.
To learn more about veneers, continue reading, "Smile Design Enhanced With Porcelain Veneers." Or, contact us today to discuss your questions or to schedule a consultation.